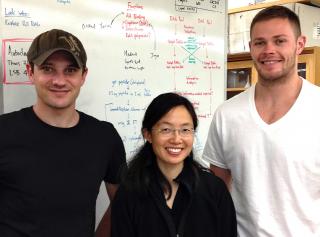 This summer Irene Chen has been spending a lot of time conducting literature searches and reading. As one of UC Santa Barbara's newest professors in the Department of Chemistry and Biochemistry, she wants to make sure her research is not only distinct from what others may be working on, but also interesting.
Chen recently received a grant from the private New York City-based Simons Foundation, which this year started the Simons Collaboration on the Origins of Life. This program, which supports creative, innovative research on a range of topics –– including the development of prebiotic chemistry, the assembly of the first cells, the advent of Darwinian evolution, and the earliest signs of life on young Earth –– awarded 15 investigators with a range of five-year grants. Chen will receive $1 million over the five-year period to support her work on the origins of life.
"I'm thrilled about the award," said Chen. "I feel that the field as a whole is undergoing a renaissance right now, and I'm grateful that the Simons Foundation will enable my lab to participate in that. And speaking as someone who is just starting out, their interest in our work is also invaluable as moral support."
A native Californian hailing from San Diego, Chen spent more than 10 years on the East Coast, earning a B.A. in chemistry from Harvard and an M.D. and Ph.D. in biophysics from the Harvard/M.I.T. MD-PhD Program. As a Bauer Fellow in systems biology she worked to build primitive cells to study information transmission and the evolutionary landscapes of the origin of life –– and she is continuing that line of scientific investigation at UCSB.