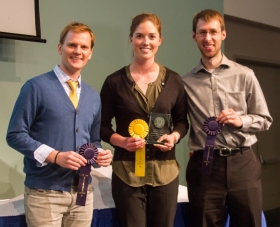 When the standing-room-only crowd at UC Santa Barbara's 5th annual Grad Slam quieted, Leah Foltz began her three-minute presentation about personalized medicine.
But hers wasn't the usual academic, sometimes dry, explanation.
Foltz, a UCSB graduate student in biomolecular science and engineering, delivered an engaging summary of recent strides in stem cell research and how her lab uses this biological material to study blinding diseases. Her research explores whether scientists will one day be able to use someone's own cells to cure their blindness.